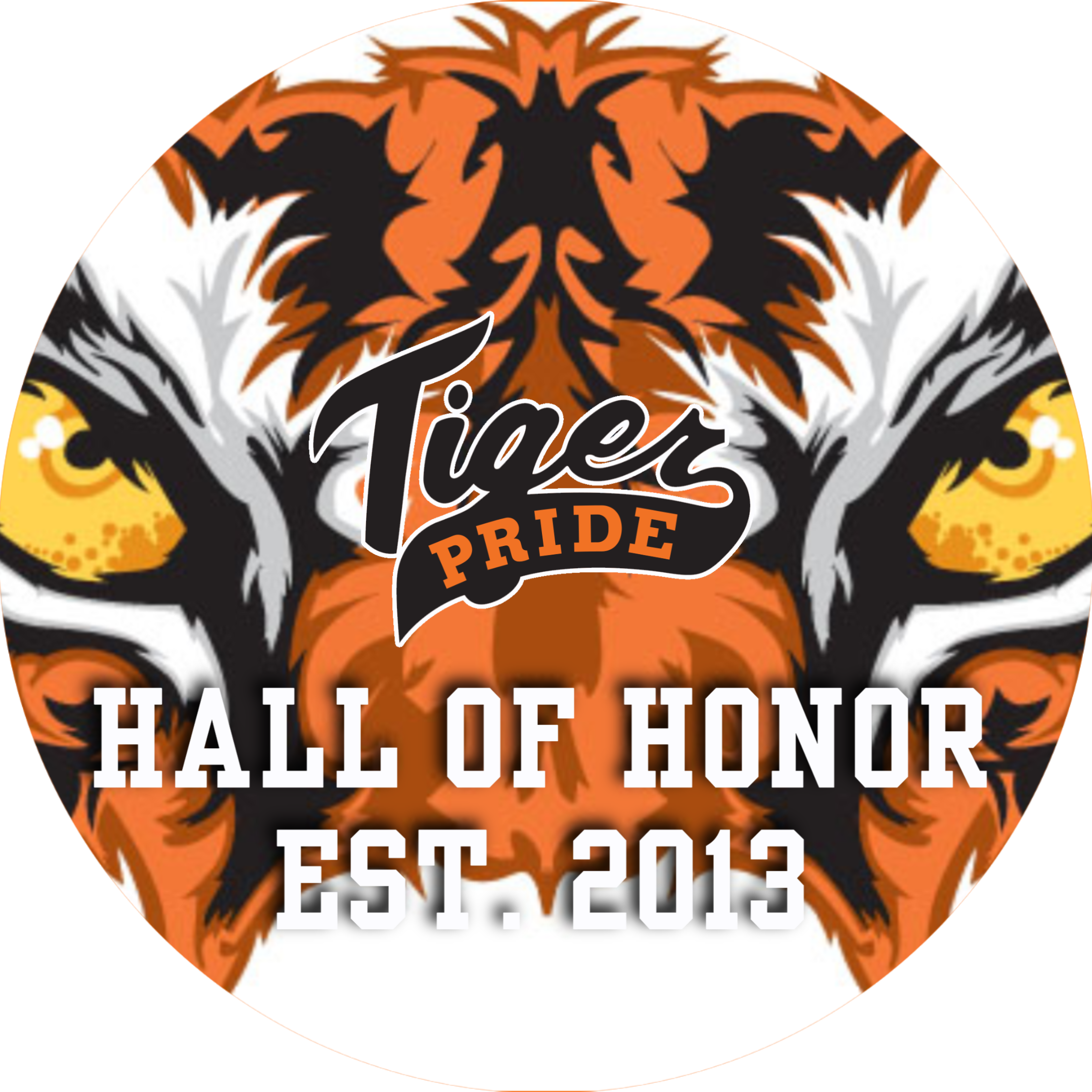 Hall of Honor - Class of 2013
1st Annual Induction Ceremony held on Thursday, December 12, 2013
Inductees: Heather Briggs (Hart), Robert Cote, Ron Cote, Dennis Gadbois, Gerry Gelinas, Madeleine Goulet, Carol Lamontagne, Michael Landry, Jason Lariviere, Jim Murphy, Nat Pierce, Marie Potvin, David Redmond, Emily Rousseau, Richard Saucier and Neil Serpico.
Heather Briggs is a 1989 graduate of Biddeford High School. In her years as a Biddeford student, she had perfect attendance for her career. While at BHS, she participated in basketball, track, field hockey and softball. She really made a name for herself in basketball. Currently, she ranks second in career points (1538). Her point total came before the three point line. She amassed over 1,200 rebounds in her career. She was the 1988 Gatorade Player of the Year. Heather was a two time all state selection and team MVP for three years. In track, she was a state champion in the high jump, long jump and javelin. At that time, she was the state record holder in the javelin.
After graduating from Biddeford High School, Heather went on to the University of Maine at Orono on a full scholarship. She ranks 10th all time in rebounds (663) and 11th all time in scoring (1176). At the time of her graduation, Heather was the all time leader in 3 pointers made in a career (42) and 3 pointers made in a tournament game (4). She was a captain and two time North Atlantic all conference selection.
Robert "Bob" Cote is a 1949 graduate of St. Louis High School. At St. Louis, he was president of his class, class valedictorian and an all-state fullback. After graduation, Bob went on to be a two way star for the Boston College Eagles. He played four years of football and made All New England Team and the All East Team. Upon leaving BC as a player, Bob served as an assistant coach for one year.
Bob later returned to Biddeford and became the head football coach compiling a record of 92-24-3. He coached at St. Louis for 18 years and his teams earned three State Championships and a co-championship in 1964. At St. Louis, he also coached basketball and baseball and had similar success. When St. Louis closed in 1970, Bob moved on to be the head football coach at rival Thornton Academy. His record at Thornton Academy was 81-50-5. Bob was the recipient of the Maine Chapter of the National Football Foundation and Hall of Fame bestowed its 1990 Contributor to Amateur Football Award to him. He also was inducted into the Maine Hall of Fame in 1999.
Ronald "Ron" Cote grew up in Biddeford, Maine. He attended St. Louis High School and was a three sport standout athlete. While at St. Louis High School, he was a two-time all state football player, all state basketball player and honorable mention all telegram league baseball player. Ron went on to attend St. Thomas More Prep for one year before moving on to the University of Maine where he continued his playing career and was a three year varsity quarterback.
In the mid 1990's, Ron was the Head Basketball Coach at the University of New England. He has also been the Head Basketball Coach at Scarborough High School and an Assistant Coach at Cheverus High School. Ron has left his mark on the SMAA and the annual SMAA Girls Basketball Coach of the Year Award is now named the Ron Cote Award. In addition, he was named Coach of the Year in 1977, 1983 and again in 1991. As a baseball coach, Ron was named SMAA Coach of the Year in 1984, 1990 and 1991. In 2003, Ron was inducted into the Maine Sports Legends Hall of Honors.
Dennis Gadbois graduated from Biddeford High School in 1982. He was a three-sport contender for the Tigers, playing football, basketball and baseball throughout his high school career. Dennis was a standout in football. He was an outstanding wide-receiver for the Biddeford Tigers. Dennis was coached by the late Michael Landry.
Dennis received several awards his senior year. He received the Steve White Award for the best Biddeford High School Athlete. Dennis was also named All Conference as a wide-receiver and a Fitzpatrick Award runner-up.
As Dennis was exploring colleges, Boston University had their eyes fixed on him. Dennis was recruited to play football by the Boston University Terriers. He was the first Biddeford High School athlete to receive a full scholarship to play football! During his college career at Boston University, Dennis played wide-receiver and also played three years of baseball for the Terriers. Dennis graduated from Boston University in 1986 with a major in Human Movement.
Dennis was not done playing football. During the draft, Dennis was a free agent. The Miami Dolphins and the New England Patriots were very interested in him. Dennis' boyhood dream came true. He played football for the New England Patriots for two years. Dennis made the community of Biddeford very proud. Dennis credits Coach Mike Landry for preparing him, not only for football, but for life. Today, Dennis lives with his family in Texas. He is a successful business owner of Preston Gym.
Gerry Gelinas graduated from Biddeford High School in 1986. A member of the National Honor Society and accomplished student Gelinas was best known as a stand out athlete and natural leader. Gelinas started for the varsity boys' basketball team as a sophomore; however, his greatest accomplishments were on the gridiron. A three year starter as the school's quarterback, Gelinas led the Tigers to two State Championship titles, including one his sophomore year, a feat rarely achieved in Maine High School Football.
Gelinas will be remembered as perhaps the best quarterback in Biddeford High School history. Statistically, he currently owns four of the school's five passing records, 28 years after his graduation. In 1985, Gelinas broke the passing attempts and completions records completing 120 of his 235 attempts. He also threw for a record 17 touchdowns and a record 1,925 yards. Following his senior year, the two time All-Conference player was awarded the Gatorade Player of the Year and Fitzpatrick Trophy, Maine's most coveted high school award.
Madeleine Goulet grew up in Biddeford, Maine and attended Biddeford High School. She is a 1979 graduate of BHS. She participated in field hockey and softball while at Biddeford High School and was captain of both teams. Madeleine played on the first ever field hockey team in 1976. After leaving BHS she attended Plymouth State University and graduated in 1983.
Madeleine has been at Biddeford High School as a teacher since 1983. Madeleine is one of the most successful female coaches in the history of the athletic program. She coached varsity field hockey from 1983-1999. Her teams won a state championship in 1990. They played in the Western Maine Finals five times winning twice. The teams were league champions four times. She was SMAA Coach of the Year in 1988 and again in 1990 and earned her 100th win in 1995. In her first five seasons at the helm of the program, her teams won only five games, but in the next eleven, her record was 133-30-9. She has also had stints as a middle school softball coach and junior varsity field hockey positions in the past.
Carol Lamontagne is a 1976 graduate of Biddeford High School. She was an outstanding athlete who excelled in basketball, softball and track. Carol's first love was basketball. She was the team co-captain for the Biddeford Girls' Varsity Basketball Team her junior and senior years. She was a true competitor who commanded the court. Her skill set was above the rest. Carol trained throughout the summer. She attended Sam Jones Basketball Camp at Stonehill College as she got ready for each and every season.
Carol lead the Lady Tigers to an 18­0 undefeated basketball season her senior year. She was Biddeford High School's very first recipient of the Lady Tiger Best Female Athlete Award. Carol was also named to the 1976 All Conference Big 8 Girls' Basketball All Star Team. Carol also participated in track her senior year. She ran the 880 and threw the javelin for BHS. Carol placed third for the State of Maine in the javelin, throwing for 121 feet. She held the record in the javelin throw at Biddeford High School for 15 years.
In the fall of 1976, Carol was off to the University of Maine at Orono where she played Division I Basketball for the Black Bears all four years. She was a starting guard and leader for the Black Bears. Carol was a team co-captain her junior and senior year at UMO. Carol graduated from the University of Maine at Orono in 1980 with a Bachelor's Degree in Business. After graduation, Carol relocated to Washington D.C. She played on the Women's Rugby Club in D.C. and won the Mid­Atlantic Championship. Carol was also selected to the Rugby All Star Team.
Mike Landry was a 1967 graduate of Biddeford High School where he starred in football and basketball. He was a high school All-American his senior year and played on Biddeford's back to back championships of 1965 and 66. He then took his talents to the University of Maine and had a stellar collegiate career.
Upon graduation, he came home to Biddeford and coached numerous sports and taught physical education. In 1977, he was named head football coach of his alma-mater. He was regarded an innovator; his teams were the first to implement weight training and the method of scouting opponents was perfected by him. He won 6 State Championships, coached 4 Fitzpatrick Trophy winners, and was named Coach of the Year 6 times. The SMAA's best coach is given the Mike Landry Award, named in his honor. The home locker room at Waterhouse Field is named for him as well. He has been honored by three different Halls of Fame. But his lasting legacy is that of a man who made a difference in the lives of the students that he taught, and the young men he coached. He never set out to make football players; he set out to make men. Countless players through four decades have echoed the same sentiments. Coach Landry passed away on December 12, 2006. He was above all a family man as well. He left his wife Carol, two daughters Shelley and Tricia, son-in-law Bill and grandchildren Allison, Ryan and Benjamin.
Jason Lariviere attended Biddeford High School from 1988-1991. He was a 3 sport athlete playing football, basketball and baseball. In 1990, he was quarterback for the BHS undefeated football state champions. He was also point guard for the 1990-1991 for the state runners up basketball team. Jason attended the University of Southern Maine from 1992-1995. He played four years on the USM Baseball Team; was named to All-American teams in 1994 (3rd team) and 1995 (1st team); was team captain 1995; and he holds many offensive records today for USM.
In 1995, Jason was drafted Amateur Baseball Draft (44th round) by the St. Louis Cardinals. He played 5 seasons of professional baseball ending at their AAA affiliate Memphis Redbirds. He was named to the 1998 AAA All-Star Team. He was also named offensive and defensive player of the year for the 1999 AAA Memphis Redbirds. He played in 6 spring training games with the Major League St. Louis Cardinals team (w/Mark McGwire, Willie McGee, Ron Gant, etc.). Jason was a Co-Founder of the "Southern Maine River Rats" non-profit baseball program.
James F. Murphy is a 1928 graduate of Biddeford High School. Jim was a three sport standout while at BHS. He participated in football, basketball and baseball. After leaving Biddeford High School, Jim attended Fordham University and played four years of football. Jim became a starter his sophomore year and started as the team's tailback for twenty-seven consecutive games. In that time, his teams lost just once. He was a repeat All-East choice and earned All American status in 1931. While at Fordham, he typically played in front of fifty-thousand fans. He played with the fabled Seven Blocks of Granite, perhaps the best known groups of linemen in college football history which included Vince Lombardi. Jim Murphy is a member of the Fordham University Hall of Fame and also the Maine State Hall of Fame.
Nat Pierce graduated from Biddeford High School in the mid 1930s. He was a tremendous high school football player. After leaving Biddeford High School, Nat enrolled at Fordham University. He was one of the famed "Seven Blocks of Granite", the renowned offensive line coach by James Crowley. Nat starred on Fordham's 1937 team that won the Sugar Bowl and ended the year ranked the #3 team in the nation. One of Nat's biggest claims to fame is that he recruited his close friend and fellow "block" to take over for him as head football coach at St. Cecelia High School in New Jersey. That friend's name is Vince Lombardi, the legendary coach of the Green Bay Packers.
Marie LeBlond Potvin was a 1977 graduate and honor student at Biddeford High School. While in high school, she was active in numerous extra-curricular activities, but her biggest interests were school athletics. She was a letter winner in softball, basketball, and track and field. Marie was the 1977 recipient of the Brother Richard Hebert Outstanding Female Student Athlete Award.
After high school, Marie applied her interest in athletics to her studies at Northeastern University where she majored in Physical Education/Health and Athletic Training. Marie returned to Biddeford High School in 1987 where she became the school's first female Athletic Trainer while teaching Health and Physical Education at the Junior High. Marie has dedicated her professional skills and personal concern to the students of Biddeford as a Health and Physical Education Teacher for 27 years in the system. After her tenure as head Athletic Trainer ended in 1994, she devoted her time to coaching softball, soccer and hockey at the youth through high school levels.
Here is where Marie really made her mark. She resurrected and kept the girls soccer program going at a time when it was struggling – moving it back to Varsity status. Her major contribution to Biddeford High School Girls Athletics was with the Hockey program. Not only did she start girls ice hockey at BHS but was a driving force behind the elevation of girls ice hockey across the State of Maine from club status to a MPA sanctioned Varsity level sport. Marie started a collaborative team of girls in the fall of 2003 to compete as a club team in the Maine Girls Ice Hockey League. In their first season, they won the Tier II State title and continued to progress, becoming a school sanctioned club team in 2006 and a Varsity sport in 2009. In her tenure, Marie's teams won two Maine Tier II titles, one Tier I State Championship, one Western Maine title – State runner-up and one Western Maine runner-up finish. All tolled, her Lady Tigers made 9 post season appearances in 10 years.
Dave Redmond started coaching in the area at St. Louis in 1960 where he was an assistant on their State Championship team. Soon he moved to BHS where he coached state championship teams in 1965 and 1966 and was selected Maine Football Coach of the Year. He led the way for the first ever Maine Super Bowl which his 1967 team won beating Bangor 20-0. He ended his coaching career at BHS with this win and a record of 25 consecutive wins.
Dave's baseball career as a youth was just as impressive setting many pitching records in the Telegram League. He was offered a bonus to sign with the Red Sox and Braves but was drafted in 1951 and served in the Army in Korea for 13 months. During that time he received several medals of honor. In 1972, Dave started his career in Maine politics serving Governors Ken Curtis, James Longley, and Chief of Staff for Joseph Brennan. He also served as Congressman Brennan's Chief of Staff in Washington. In 1997, the Youth Football Fields in Biddeford were dedicated to David E. Redmond.
Emily Rousseau is a 2007 graduate of Biddeford High School. She participated in basketball and softball while attending BHS. Emily is most known for her accomplishments on the basketball court. She was a two time captain, four-time MVP, four time All-Conference selection and a McDonald's Senior All Star. Emily currently holds the school record for most points in a career (1554) and points in a game (44). She finished her career with 398 rebounds, 328 assists and 286 steals. As a softball player, she was named to the All Conference team in 2006 and helped lead her team to a state championship.
After graduation, Emily received a full scholarship to play basketball at the University of Maine at Orono and later transferred to Stonehill College. While at Stonehill she was a three time all Northeast 10 and was the 2010-11 team MVP. She finished her Stonehill College career with 1176 points, 294 rebounds, 347 assists and 107 steals. Her 1176 career points ranks her eleventh in the programs history.
Richard "Dick" Saucier is a 1967 graduate of Biddeford High School. He participated in football, basketball and baseball while attending BHS. On the football team, Dick was a split end and safety and led his team with eight interceptions. As a three year varsity basketball player, Dick averaged just under 20 points per game and often reached 30 points on a given night. He was recognized as an all conference player. In baseball, he was an All Telegram selection for three years. He was a career .366 hitter and won the batting title his sophomore year. As a pitcher, he once struck out 19 batters in a game versus Deering High School.
After graduation, Dick accepted a full athletic scholarship to Edward Waters College. He attended Edward Waters his freshman year. As a result of the assassination of Martin Luther King Jr., the college dropped the football program for the safety of the players. He returned to Maine and played semi-professional football.
Neil "Ziggy" Serpico was a 1950 graduate of Biddeford High School and was a tremendous three-sport athlete. Upon graduation and following a year of prep school, which was very common in those days, he took his talents to the University of New Hampshire. He played both football and baseball and in his senior year he played both ways for the Yankee Conference Football Team and hit .354 that spring for the baseball team. Following graduation from UNH, he signed with the Baltimore Orioles and was assigned to the Sooner State League and after just 14 games he was promoted to the Class C Aberdeen South Dakota Pheasants of the Northern League. Neil was batting .314 that season when he was drafted into the U.S. Army. Following two years of military service and honorable discharge, the St. Louis Cardinals offered Neil, then 25 years old, a contract to play Class A in their organization. However, the Baltimore Orioles refused to release him and offered a spot with their Class D affiliate. These were the days before free agency and signing a professional contract with a team bound the player for life, unless he was released.
Neil then returned to his hometown. After teaching for a couple of years and coaching baseball at Thornton, he returned to his alma-mater Biddeford High School. He inherited a Class D program and within a 5-year span he made good on a promise to bring the Tigers all the way back to class A. He reached his goals of returning bitter rivals St. Louis High School and Thornton Academy to the Tiger's schedule. He was instrumental in founding the Football Boosters and improving Waterhouse Field. While teaching and coaching at Biddeford High, he earned a masters degree from Boston University. In 1965, he resigned as head coach of the Tiger Football Program to attend Alabama University where he earned his doctorate in physical education. He served as a graduate assistant football coach under the legendary Paul "Bear" Bryant.
In 1969, Dr. Neil A. Serpico became a professor of Physical Education at West Chester University, which is located outside Philadelphia Pennsylvania. Initially, he was the head freshmen football coach, enjoying an undefeated 10-0 season defeating schools such as Temple and Villanova. He was also an assistant baseball coach and in 1970, when the position opened, he was named interim head baseball coach. The interim title was at his request, due to his desire to remain involved with the football program. The interim title was quickly dropped and Coach Serpico focused on building West Chester into a Division I baseball powerhouse. He enjoyed many years of success at West Chester, winning titles in the East Coast Conference and the Pennsylvania State Athletic Conference. He was Conference Coach of the Year in 1985 and his team won the conference that year.
On April 27, 1987, Coach Serpico was leading the West Chester Rams in a doubleheader against C.W.Post University on Long Island, New York. He took ill during the first game and was hospitalized, passing away suddenly at the age of 55. He finished just shy of 300 career college baseball victories. The baseball stadium at West Chester is named in his honor. In 1993, he was posthumously inducted into the Maine Baseball Hall of Fame.