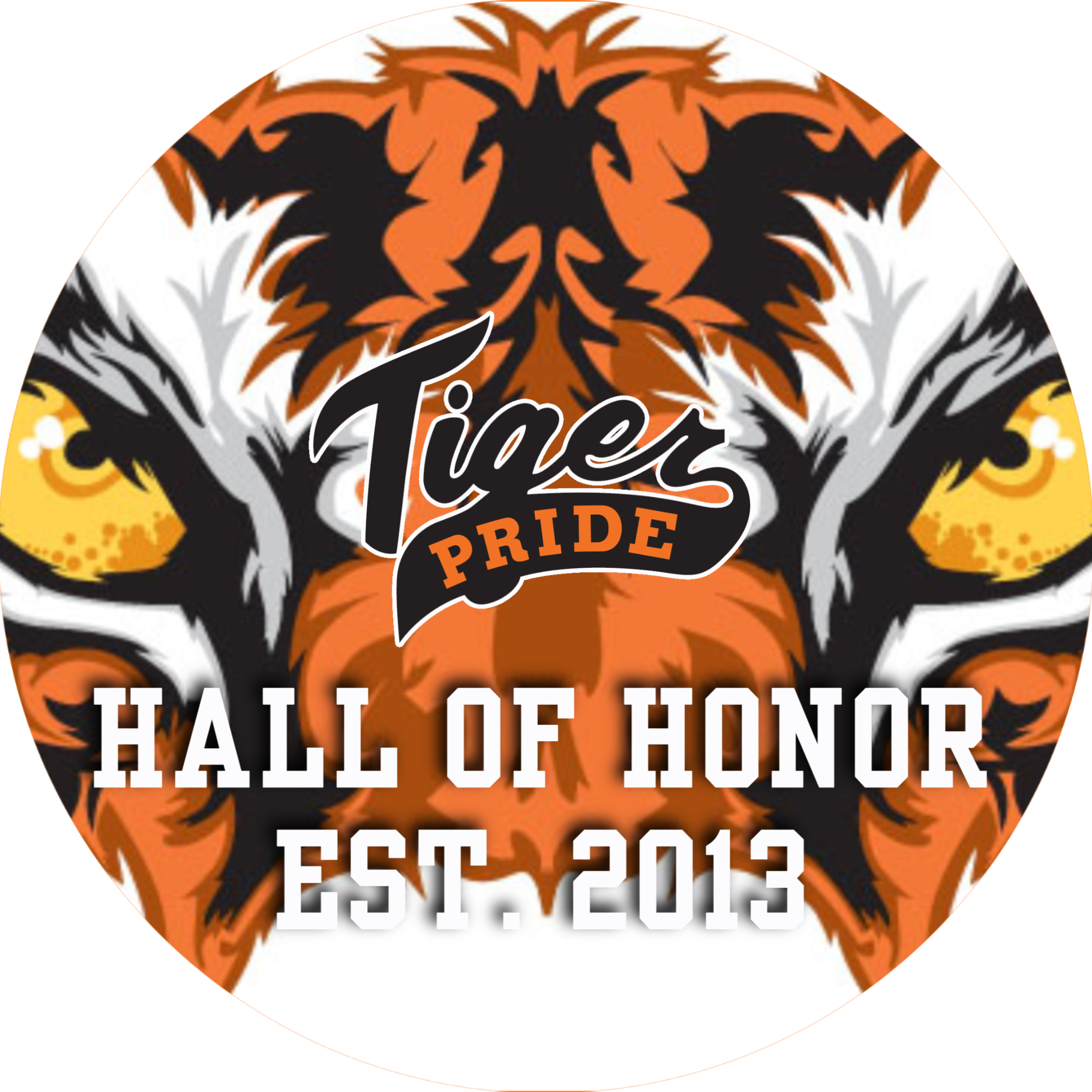 Hall of Honor - Class of 2018
6th Annual Induction Ceremony held on Thursday, January 10th, 2019
Inductees: Roger Beaulieu '68, Jon Benson '05, Dan Gagne '57, Denise (Huot) Gelinas '85, Cathy (Narsiff) Caron '82, Ronald Ouellette '71, Roger "Red" Sevigny '62, and Steve Tardif '95.
Roger Beaulieu participated in football, basketball, and track and field. He was a First Team All-State football player in 1966 and 1967, and helped lead the Tigers to three State Championships in 1965, 1966, and 1967. Roger also excelled in track and field, winning individual state championships in both the javelin and the shot put, and held the BHS javelin record until 1992 when his son broke the 25-year record. Upon graduation, Roger attended North Eastern Oklahoma to study Architectural Engineering on a full football scholarship and was a Little All American Nominee. After graduating from North Eastern Oklahoma, Roger returned to Biddeford where he became a teacher at BHS and joined the Tigers' football team as an assistant coach.
Jon Benson participated in football, wrestling and baseball. An all-star in all three sports, he made his biggest impact in the sport of wrestling. Following his 2003 individual state champion runner-up, Jon finished his final two seasons in wrestling with a 57-2 record (57-0 in Maine) and captured two individual state championships. Upon graduation, Jon attended Husson College where he played football and helped propel the Eagles to their first post season game; attending the ECAC Northeast Bowl Game. He was named to the New England Football Writers (NEFW) DII/III All-New England team. In 2009, Jon was honored as a ECFC first-team right tackle. Jon finished his career with 20 total tackles (13 solo), a sack, and a forced fumble in 28 games, and has been inducted into the Husson Athletic Hall of Fame.
Dan Gagne participated in football, baseball, and speed skating (non-interscholastic). Dan was a Maine State Champion speed skater from 1954-1957. He was also a New England Champion speed skater from 1955-1957. After graduation, Dan joined the United States Air Force competing on their Speed Skating team, which traveled throughout the United States and Canada, and trained with the United States Olympic team. Dan won the United States Open Speed Skating Championship and the North American Speed Skating Championship. After leaving the Air Force, Dan returned to Biddeford and started the Maine Bladesmen Speed Skating Club which grew to a membership of over 100 members aging from five years old to adults. After his retirement from skating, he excelled in racquetball and was inducted into the Maine Racquetball Hall of Fame.
Denise (Huot) Gelinas was a tremendous cheerleader for the Tigers. In 1983, she attended the National Cheering Championship in Dallas, Texas, and was a two-time All-American winner at the National Cheering Association Camp in 1983 and 1984, and in 1984 qualified for the Hula Bowl in Hawaii. She has been an active participant in the Maine Principals' Association for 21 years as a cheerleading coordinator, educator, assignor, and competition official. Her contributions include being a liaison to the MPA Cheering Committee, a Maine liaison to the New England Cheering Championships, and a founding member of the New England Interscholastic Spirit Championship Board. Denise was a National Federation Spirit Rules Interpreter on the National Federations High School Spirit Committee for Section I, and has also been active in training cheering coaches at the national level in the Northeast. She was presented with the Larry Labrie Award for her outstanding contributions to the MPA's Interscholastic Division.
Cathy (Narsiff) Caron participated in cross country, ice hockey, and track and field. She was the first female ice hockey player to start for the male hockey team at Biddeford High School and a highly successful goalie. In track, she was a state champion in the discus. Cathy went on to prep school at Berwick Academy where she was the captain and MVP of the soccer team, the Male Ice Hockey team-starting goalie and MVP, and a lacrosse starter and MVP. At the University of New Hampshire (UNH), she was a four-year starter on the Women's Ice Hockey team and set records in shutouts and goals against. Cathy was named the CMM Player of Year, which is given annually to the Nation's Best Player. She also participated in lacrosse while at UNH and became the starting goalie, a three-time All-Conference selection, a three-time All-Region selection, and a three-time First Team All-American. Cathy was inducted into the UNH Hall of Fame for Ice Hockey and Lacrosse in 2000. After graduating from UNH, Cathy was a member of the USA Women's Lacrosse team from 1986-1990. In 1989, she was the reserve goalie in the World Cup. When her playing career ended, she became an Assistant Women's Ice Hockey Coach at UNH.
Ronald Ouellette participated in football, basketball, and track. In 1970, he was named to the All-State football team, and in 1971, he was recognized as the school's top male athlete with the Stephen F. White Award. Upon graduation, Ron attended Colby College where he was a four-year letter award winner in football as an offensive lineman, was named co-captain his senior year, and named second team All-New England two times. Ron coached Biddeford High School football for 18 years and was part of three State Championship seasons. Over the course of his 44 years coaching Indoor and Outdoor Track, Ron also won numerous conference, regional and state titles. In 2017, he was named the conference "Coach of the Year." In 2000, Ron was named the University of New England (UNE) men's and women's head cross country coach. Since that time, the teams have combined to win eight conference titles. As the UNE coach, he has won nine conference "Coach of the Year" Awards. In 2014, Ron was inducted into the Maine Legends Hall of Fame, and in 2016 he was inducted into the University of New England's Hall of Fame.
Roger "Red" Sevigny, a graduate of St. Louis High School, participated in football, basketball and baseball. The "Little General" was chosen as an All-Maine Class A quarterback and named an honorable mention All-American and St. Louis High School's Most Valuable Player. Roger was the fourth all-time leading scorer in basketball with 617 career points. Roger then attended St. Francis of Antigonish College in Nova Scotia where he continued to play quarterback at a high level. In 1964, he threw six touchdowns and 246 yards in a 76-0 victory over New Brunswick. His six touchdown effort is the most TD's thrown in a game in St. Francis history (tied with Tivon Cook-2016), and is second all-time in the Atlantic University Sports history. In 1965, Roger was involved in an automobile accident that left him paralyzed from the waist down. In 1980, Roger was named Chairman to the Governor's Committee on Employment of the handicapped. His goal was to make all public buildings handicap accessible.
Steve Tardif participated in football, basketball and baseball. In 1994, Steve helped the Tigers' football team win its last football state championship. With under 36 seconds remaining, and the Tigers trailing by a touchdown, Steve returned a punt for 80 yards to tie the score, and the Tigers went on to win the game in overtime. Twenty-four years later the play is still referred to as the single greatest play in Maine football state championship history. At Maine Maritime Academy, he continued playing football where he rushed for 6,093 yards (second in NCAA Division 3 history) and scored 39 touchdowns. He averaged 5.2 yards per carry and 156 yards per game, and also rushed for 352 yards breaking the Maine Maritime single game rushing record. He was named a second team All-American, captain of the team, and selected as a first team All-American. In 2014, Steve was named to the Maine Maritime Academy Hall of Fame.