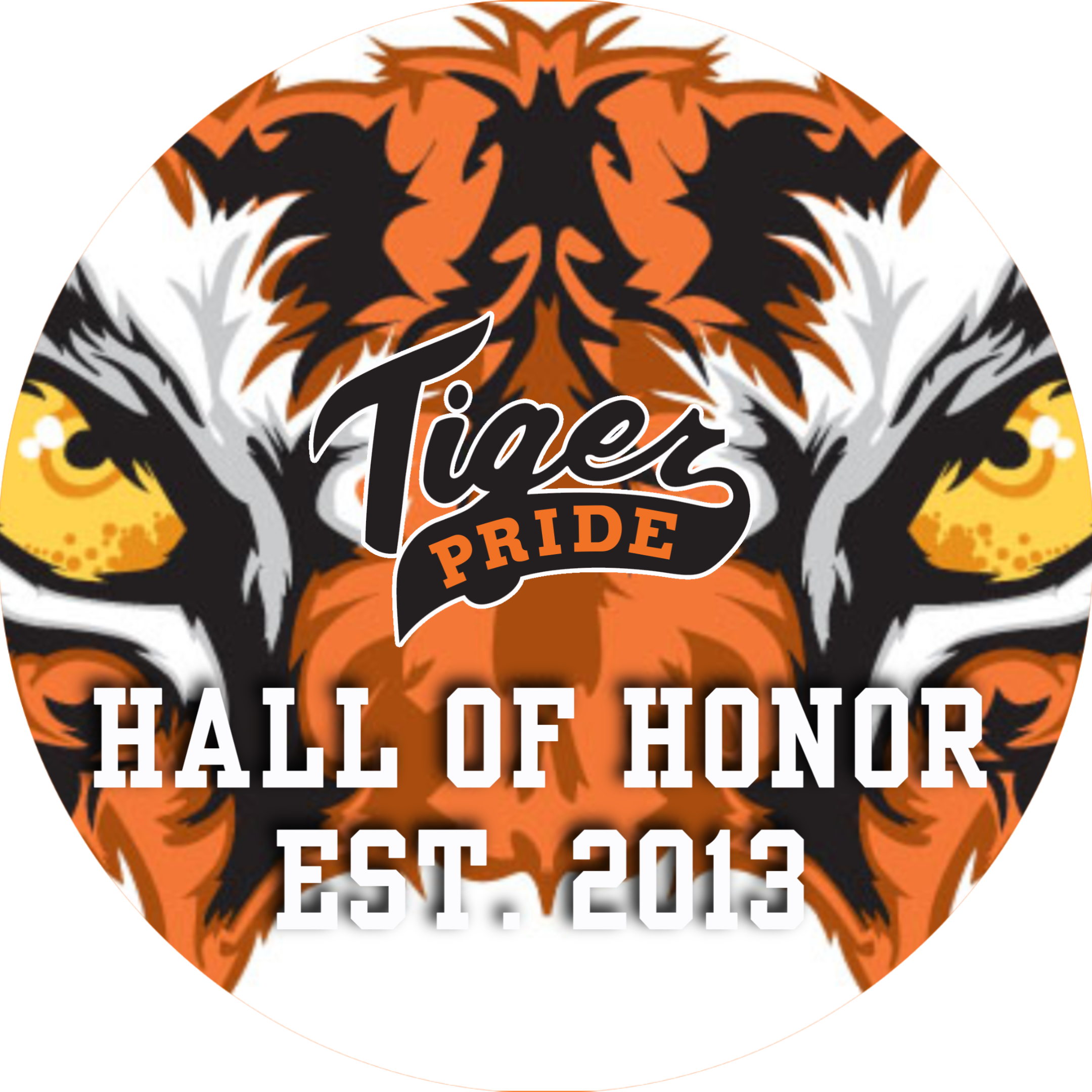 Hall of Honor - Class of 2019
7th Annual Induction Ceremony held on Friday, January 24th, 2020
Inductees: Paul Beaudoin '59, Phil Bourassa '04, Steve Chaloult '85, Kim (Corbeil) Martens '81, Alan Dutremble '70, David Fortin '76, Randy Petit '95, and Stela (Striligas) Almodovar '96.
Paul Beaudoin '59 participated in football and baseball. He was a linebacker and running back—scoring 16 touchdowns his senior year– and was All York County in 1958. In baseball, Paul hit over .300 both his junior and senior years, and was All Telegram League his junior year. Paul was the very first BHS recipient of the Steve White Award. This award is given annually, for the past 61 years, to the school's best male athlete. Following graduation, Paul attended Maine Central Institute on a football scholarship before transferring to the University of Akron in Ohio to play collegiate baseball.
Phil Bourassa '04 participated in football and basketball. In 2003, the Tiger Quarterback was an SMAA All-Conference Player, won the prestigious Dave Allen Award, named Gatorade Player of the Year, and the recipient of the Fitzpatrick Trophy. During his four-year career in basketball, he scored 434 points for the Tigers. His 168 career steals remain the most of any Tiger since 2001 and his 190 assists is second all time for the Tigers. In 2003-2004, he tied the school record with 12 assists in a single game and was named to the AP All-State Basketball Team and a McDonald All-Star. Following graduation, Phil played basketball at Plymouth State College as Captain and earned all-academic status. In 2011, he was named AP Basketball Coach of the Year and SMAA Basketball Coach of the Year.
Steve Chaloult '85 participated in football and basketball. Steve was an All-State football player and helped lead the Tigers to two State Championships in 1983 and in 1984. He was also the recipient of the Steve White Award in 1985. Upon graduation, Steve joined the United States Army in 1985 where he joined FT Rucker for Advanced Individual Training (AIT) to learn how to repair helicopters–graduating 1st in his class. After a three- year absence from the sport of football, he walked onto the football team and became a two- year starter for the Army as an offensive guard. Steve graduated from West Point in 1992, and in 1993 returned to the United States Military Academy Preparatory School to become an offensive line coach.
Kim (Corbeil) Martens '81 among the Top 10 of her class, participated in field hockey, basketball, and track & field. Kim held the school record for most goals in a game, a season, and career while playing field hockey. She was also the team's captain and earned the team's Most Valuable Player. In basketball, she earned SMAA York-County All-Conference status, was the team's Most Dedicated Player and held the school record for most rebounds in a game, season and career. In track and field, Kim held the SMAA high jump record, and the BHS high jump and shot put record. Kim was awarded the school's Brother Richard Hebert Award in 1981. Upon graduation, she attended St. Michaels College on a basketball scholarship where she was awarded the Victor. V. Lemieux Award for her loyalty and leadership on and off the court. From 1986-1988, Kim coached JV Basketball for BHS.
Alan Dutremble, a 1970 graduate of St. Louis High School, participated in basketball and baseball. In basketball, Alan scored 872 career points while pulling down 540 rebounds for the Eagles. His skills earned him both All-State, and All-Telegram honors his senior year. Alan was a four-year starter for the Eagles playing catcher, first base, and pitcher, with a 336 batting average. After high school, Alan attended and played basketball at the University of Maine in Orono. Upon graduating from UMaine, Alan joined the Developmental League Northeast Basketball Conference (Philadelphia to Boston – D League earning Most Valuable Player status in 1978. Alan became a teacher at BMS for 40 years, earning induction into the SeaDogs/Unum Teacher Hall of Fame in 1998, and coached at both the Middle School and High School levels in baseball, softball, and basketball for a span of 30 years.
Dave Fortin '76 participated in football, basketball, baseball, and track. Dave made his biggest impact on the gridiron. During his senior year as captain, he received two First Team All-State Awards as an offensive tackle and a defensive linebacker. He was a Fitzpatrick Trophy Semi-Finalist for the best football player in Maine. Upon graduation, Dave attended Northeastern University in Boston, MA to study law on a football scholarship. He was a Division I defensive-end and special teams player. Fittingly, the last organized game of his career was played in the Great State of Maine. He captained his team with a win over the University of Maine Black Bears in Orono.
Randy Petit '85, a three-sport athlete, participated in football, basketball, and baseball. In football, Randy helped win two State Championships including the historic 1994, come from behind, victory vs. Waterville High School. Randy scored 26 total touchdowns in his senior year, was a two-time All-State player, and was a finalist for the Fitzpatrick Trophy. In basketball, Randy was a team captain and a two-time All-State player. In 1993-1994, Randy scored a season-high 384 points, leading the SMAA, and totaled 195 rebounds. He was also named the Most Valuable Player for the Tigers. In baseball, Randy was also a team captain, two-time All-Star, and two-time All Telegram League player. Upon graduation, Randy attended Bowdoin College on a football scholarship where he was a two-time All-Conference player and broke the multiple kickoff return record for the Polar Bears. Randy was also scouted by the Buffalo Bills during his time at Bowdoin.
Stela (Striligas) Almodovar '96 participated in track and field competing in cross country, indoor track, and outdoor track. At BHS, she captured individual state championships in the 100- and 200-meter and was a member of the 400-meter relay team that obtained the state record in 1996. In 1995, Stela was honored with the Angie Abramson Award given annually to the SMAA most respected competitor. At graduation, she was presented with the Bob Provost Award for her outstanding track and field record, dedication, leadership, and personal excellence. Upon graduation, she attended Springfield College on a track and field scholarship and then entered the United States Air Force where she currently serves as the Lead Pharmacist, at the rank of Major, at Joint-Base Anacostia Bolling, in Washington DC.