FREE FOOD DISTRIBUTION:

BIDDEFORD: June 21-August 13 (Monday through Friday)
10am-11am at BMS Bus Loop
Free Breakfast and Lunch

DAYTON: June 14-June 30 (Monday through Friday)
9:30am-10:15am at Dayton Consolidated
Free Breakfast and Lunch (Call 499-7803 by 9am to pre-order)
OPEN TO ALL:
Youth Full Maine Food Distribution
1st and 3rd Wednesday of each month (June 16, July 7, 21 and August 4, 18)
10am-11am at BMS Bus Loop

Good Shepherd Food Distribution
3rd Wednesday of each month (June 16, July 21 and August 18)
11:00am-1:00pm (Times may vary) at BMS Bus Loop
MEAL SITES: Click Here for a full listing of free meal sites in the community.
FREE School Meals for All and $2.5 Million for School Funding
The State of Maine and USDA now cover school breakfast and lunch for all children! It remains CRITICAL for parents to complete the Meal Benefit Application by October 1st despite the free meals. The data provided by completing this application directly qualifies our schools and community for funding and private grants--$2.5 MILLION LAST YEAR--including Title 1 funds for special education programs; before/after and summer school programs; discounts on laptop insurance and internet; and teacher's student loan forgiveness. Please take the time to complete the application even if you believe you don't qualify for free and reduced lunch.
To apply online, simply click the "Apply on Paypams Site" link below or print out the application found here, complete it, and return it to your child's school. By completing and returning the form, you are greatly supporting our District!
Complete Application Online: Click Here to Apply on Paypams Site
Complete Application On Paper: Click Here to Print & Submit to School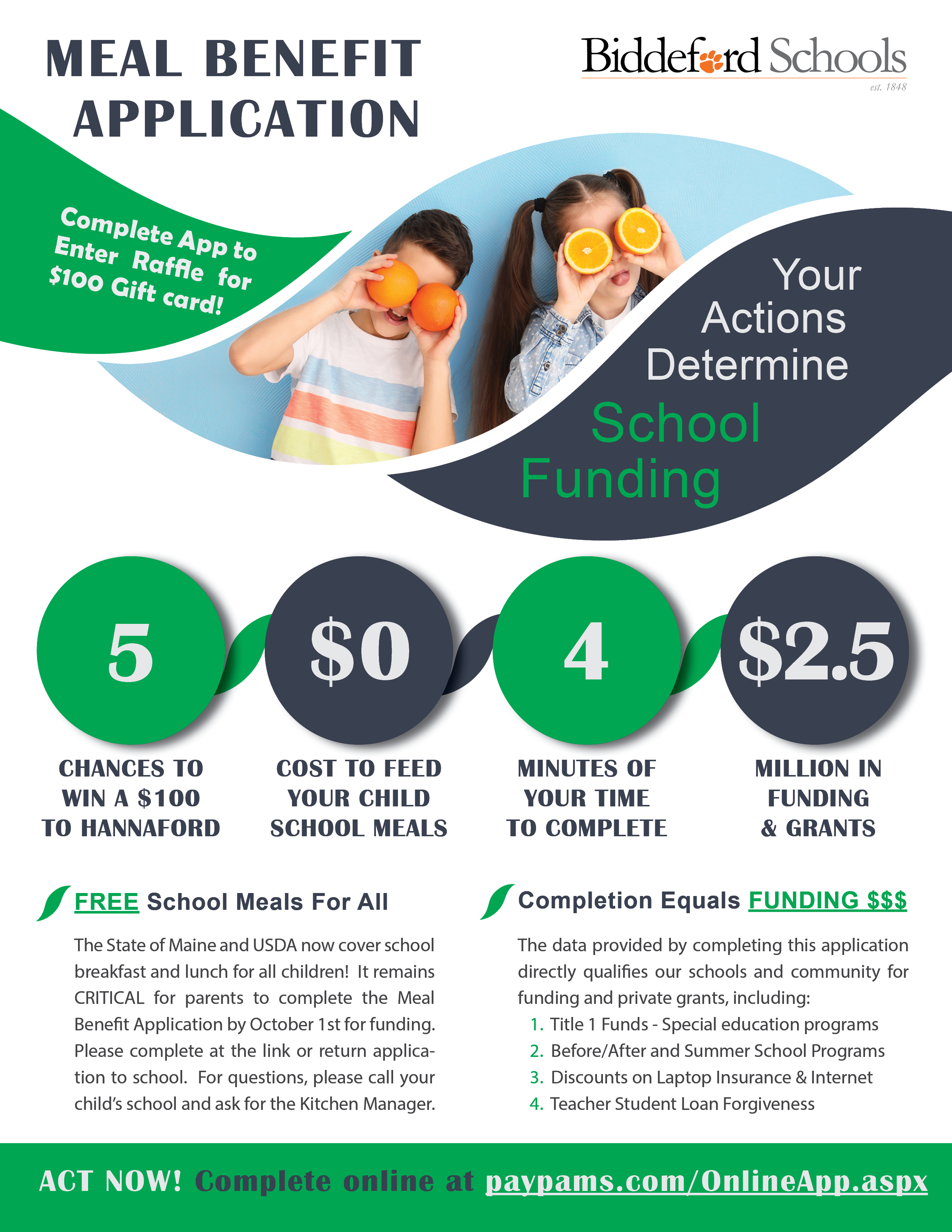 Menus are located on school websites and the
Biddeford Schools Mobile App (under Menu/Dining)
If you have any comments, suggestions, or questions, please contact your child's school and ask for the Kitchen Manager or contact Food Services Director Susan Morrell at smorrell@biddefordschools.me or 207-391-6899.