December 12, 2022 – The country's longest veterans' parade – Wreaths Across America (WAA)'s annual "Escort to Arlington" kicked off on Saturday, December 10, 2022. This 12-truck convoy, accompanied by Chevrolet vehicles, the Wreaths Across America Mobile Education Exhibit, and local supporters, passed through Saco and Biddeford on its way to Arlington National Cemetery to deliver veterans wreaths to our nation's interred veterans. The convoy made a scheduled stop at Biddeford Middle School (BMS) on Monday, December 12 at 9:15 a.m.
"Biddeford is honored to be chosen as one of this year's 'Escort to Arlington' stops as the convoy travels to Arlington National Cemetery," said local WAA volunteer stop coordinator and Biddeford School Department's Director of Community Outreach Shelley Kane. "Having been part of this convoy in the past, it was a privilege to have Biddeford Middle School chosen so students could personally hear from veterans in our community and learn about the importance of their ultimate sacrifice."
As the convoy passed through Saco and Biddeford, students from Fairfield and C.K. Burns Schools in Saco and John F. Kennedy, Biddeford Primary, and Biddeford Intermediate Schools in Biddeford lined the roads leading to the convoy stop and waved to the truck drivers on their way to honoring American heroes. When the convoy made its scheduled stop at Biddeford Middle School, students and local veterans were invited to a special presentation. Speakers included Superintendent Jeremy Ray, Retired U.S. Air Force Colonel Jen Fullmer, Retired U.S. Air Force Staff Sergeant Michael Gibney, Mayor Alan Casavant, Wreaths Across America Founder Karen Worcester, and Gold Star Mother Cindy Tatum.
What began 30 years ago as a pilgrimage by Maine wreath-maker Morrill Worcester in a single truck to deliver 5,000 wreaths to Arlington National Cemetery as a gesture of gratitude has become a national mission to Remember, Honor, Teach. National Wreaths Across America Day ceremonies will take place at more than 3,600 participating locations across the country on Saturday, December 17, 2022. These events are free and open to all people. To find a participating location near you to support and/or volunteer to place wreaths, click here.
The official escort continues to travel down the East Coast, stopping at schools, memorials, and other locations along the way to spread the mission to REMEMBER, HONOR, and TEACH. Additional stops with public events will be held in New Hampshire, Connecticut, New Jersey, Pennsylvania, Delaware, Maryland, and Washington D.C., before arriving at Arlington National Cemetery on the morning of Saturday, December 17 for National Wreaths Across America Day.
To view the complete schedule, please visit www.wreathsacrossamerica.org/arlington-escort-information.
Participants for this year's convoy include Gold Star Families, Blue Star Families, veterans, volunteers, first responders, members of the Patriot Guard Riders and Patriot Riders, and representatives from Wreaths Across America.
Special thanks to the support of local Law enforcement from departments across Maine as well as other states along the route who are volunteering their time and efforts to ensure safe travel for all participants throughout the week.
# # #
PHOTO CAPTION COVER PHOTO ABOVE: Retired U.S. Air Force Colonel Jen Fullmer speaks to Biddeford Middle School students and visitors regarding her time in the military and the cost of freedom.
PHOTO CAPTION BELOW: Students from Biddeford Intermediate School welcome the convoy as they make their way toward their stop at Biddeford Middle School.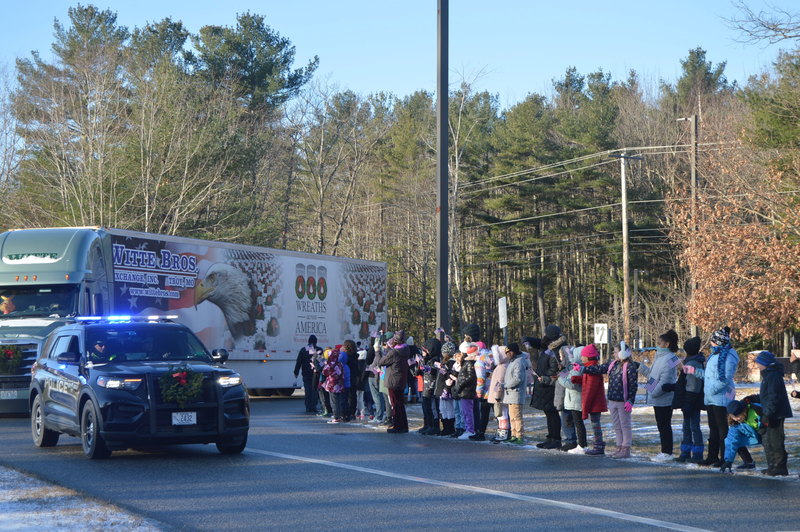 About Wreaths Across America Wreaths Across America is a 501(c)(3) nonprofit organization founded to continue and expand the annual wreath-laying ceremony at Arlington National Cemetery, begun by Maine businessman Morrill Worcester in 1992. The organization's mission – Remember, Honor, Teach – is carried out in part each year by coordinating wreath-laying ceremonies in December at Arlington, as well as at more than 2,900 participating locations in all 50 states and overseas. For more information, please visit www.wreathsacrossamerica.org.