Welding and Metal Fabrication
The Welding and Metal Fabrication Program prepares students for employment in the areas of construction and welding trade. Students become proficient in a variety of welding and cutting processes, as well as interpreting blueprints and weld symbols. Instruction is provided through classroom and hands-on experience in the lab. Eighty percent of the students who complete the program enter the welding field with job entry level skills or continue their education and earn an Associates Degree in Welding.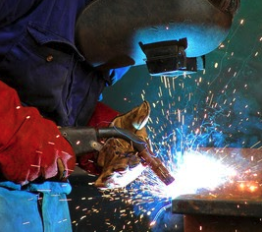 Welding and Metal Fabrication I
#27216 & 27226
Level: CP
Open to: Grades 11 & 12
Credit: 4
Prerequisite: Strong basic Math Skills, positive attendance history, and the ability to read, comprehend and write at the high school level are recommended for success in this program. Able to work both independently and as part of a team. Students with respiratory/medical issues need a medical doctor's permission.
BHS Graduation Standards: Math, Fine Arts & Physical Science
Eligible for Concurrent Enrollment: EMCC
Description: The first year will provide students with the fundamentals and basic skills needed to get into the field of welding and metal fabrication. Hands-on lab work will primarily include Shielded Metal Arc Welding (SMAW), some Metal Inert Gas Welding (MIG) and oxy acetylene cutting. The proper use of safety equipment, maintaining a safe working environment, safe working practices and other soft skills are also taught and strongly enforced. The class curriculum follows standards set by the American Welding Society (AWS) and the National Center for Construction Education and Research (NCCER), each which offers students with nationally recognized credentials.
Welding and Metal Fabrication II
#27236 & 27246
Level: CP
Open to: Grade 12
Credit: 4
Prerequisite: Successful completion of Welding and Metal Fabrication I
BHS Graduation Standards: Math, Fine Arts & Physical Science
Description: The second year classroom instruction will include complete coverage of blueprint reading and welding symbol interpretation. Basic metallurgy and weldability of different metals along with both the destructive and non-destructive examination of welds will also be covered. The lab work includes the continuation of mastering the SMAW process in all four positions. Students will also need to perform projects using Tungsten Inert Gas welding (TIG), and Flux Core Arc Welding (FCAW). Pipe welding will be introduced.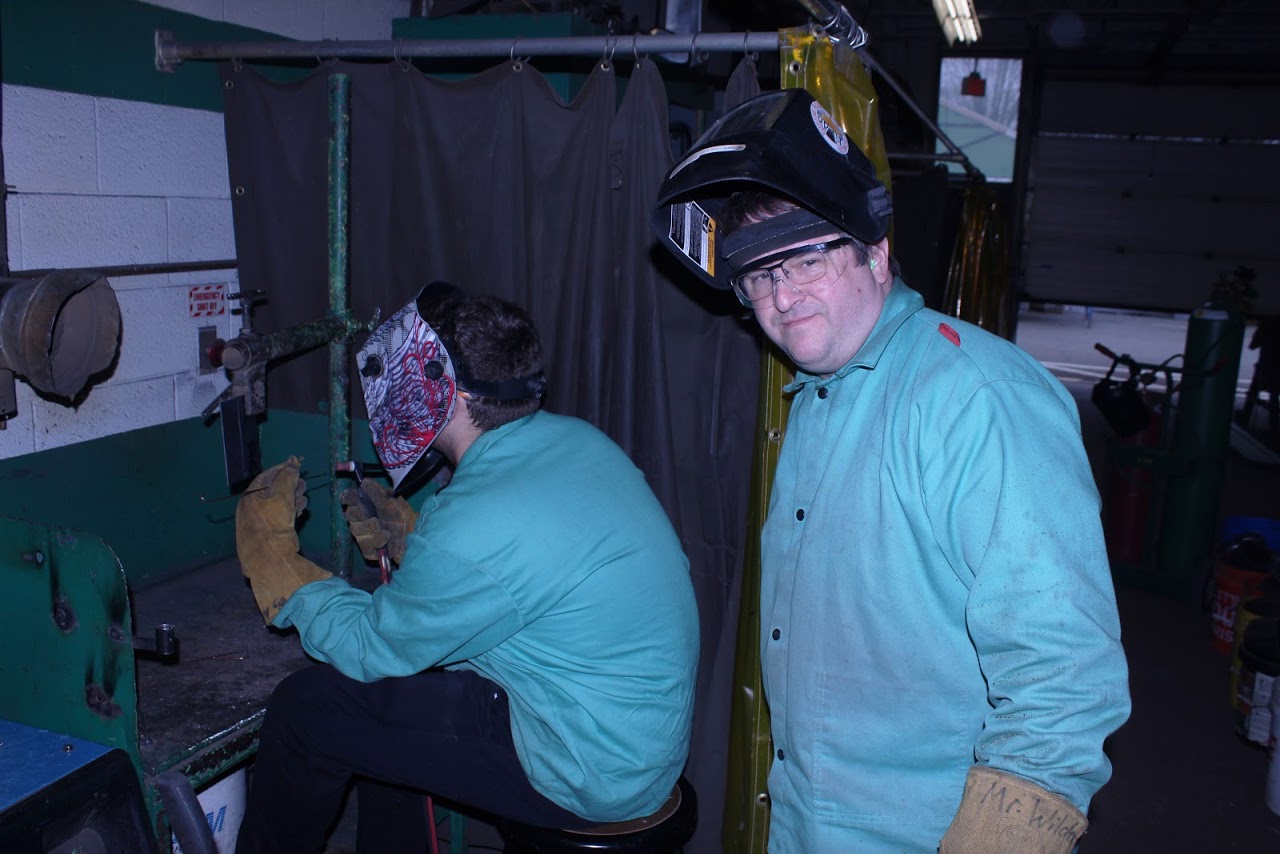 Adam Wilder
Welding and Metal Fabrication Instructor
Adam N. P. Wilder is a resident of Biddeford, Maine. He completed the welding and metal fabrication program here at the C.O.T. when he was still in highschool. After Adam went on to Central Maine Community College in Auburn Maine to obtain an associate's degree in the Welding and Metal Fabrication program offered there. He has since gone back to achieve a Bachelors degree in the Industrial Technology (ITP) program from the University of Southern Maine, Gorham Maine.
During his senior year Adam worked at Fiber Materials Inc. in Biddford Maine as a Welder/Apprentice. After finishing Central Maine Community College he was employed as a Welder/Fabricator at Metso Paper here in Biddford Maine for five years. He then took Design Drafter position at Southworth Products Co in Falmouth Maine. He assisted engineers with proper weld symbol specification and designed hydraulic lift tables for industrial and ergonomic applications.