As a reminder, BRCOT will not be hosting in person classes on Tuesday 11/7. Instructors are providing assignments for students to complete from home. (Due to parking needs for election day.)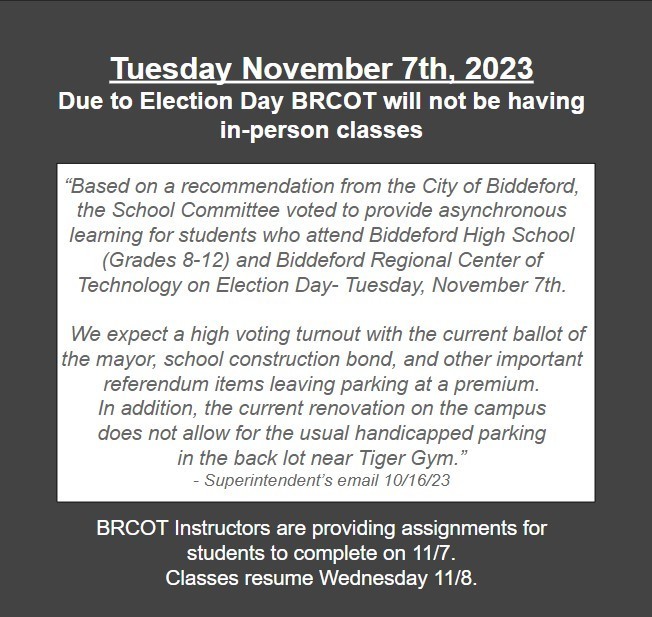 Jaimie Cunningham from American Standard came to COT to speak with our plumbing students about options American Standard has for all your plumbing needs. Students appreciated the doughnuts and pizza Jaime brought to share!
Good Morning! As a reminder classes at COT start Tuesday 9/5. Students should remain at their sending schools today and we will see you Tuesday! Please Note: If you are taking Tech Math and Business Basics do have classes today. Thank you!
Please join us in celebrating our BRCOT students who have fully completed their programs at the End of Year Celebration May 25th, 6:00pm - 8:00 pm at BMS Performing Arts Center. Congratulations Class of 2023.
Congratulations to Pichithylen (Sreylen) Thor for being named BRCOT's student of the year! Sreylen, a computer technology student, was honored at a banquet Saturday. Every CTE school in Maine chooses one student for this honor. We are proud of you and your accomplishments!
Tonight WCSH6 is featuring a story about Women in the trades featuring a couple of our COT students. Tune in to see Rebecca talk about Welding and Bri talk about her experience with our Auto Tech and Business programs. #womeninthetrades
Students in our Electrical. Plumbing, Residential Carpentry and welding Programs have been invited to Apply for AGC Maine's Maine Construction Academy. Students got information today. Parents are invited to COT Weds. from 4:00-7:30 to learn more about it! Please stop by!
BRCOT's Director, Paulette Bonneau, was part of the discussion about CTE in Maine today on Maine Calling. If you did not get a chance to hear it live, it is being rebroadcast tonight, 3/29, at 7:00 p.m. The episode will later be uploaded to Maine Public Radio as well. Tune in!
Two of COT's instructors were honored at the NTHS ceremony last night. Marc Cadorette, Precision Machining, and Mary Maxfield, Early Childhood, have both supported many students over the years. We are grateful for their service, skills, dedication and kindness. Thank you both!
Twenty-four COT students were inducted into the National Technical Honor Society last night. This recognition is awarded to students for leadership, scholarship, skills, honesty, citizenship, service and responsibility. Congratulations to all inductees!
BRCOT is in the midst of its recruitment season. To learn more about our programming, our school and how/where to apply, visit the latest newsletter:
https://www.smore.com/37rae
Please see this important message about potential release of a sensitive video and helpful parental resources:
https://www.smore.com/zde6f