Please join us in celebrating our BRCOT students who have fully completed their programs at the End of Year Celebration May 25th, 6:00pm - 8:00 pm at BMS Performing Arts Center. Congratulations Class of 2023.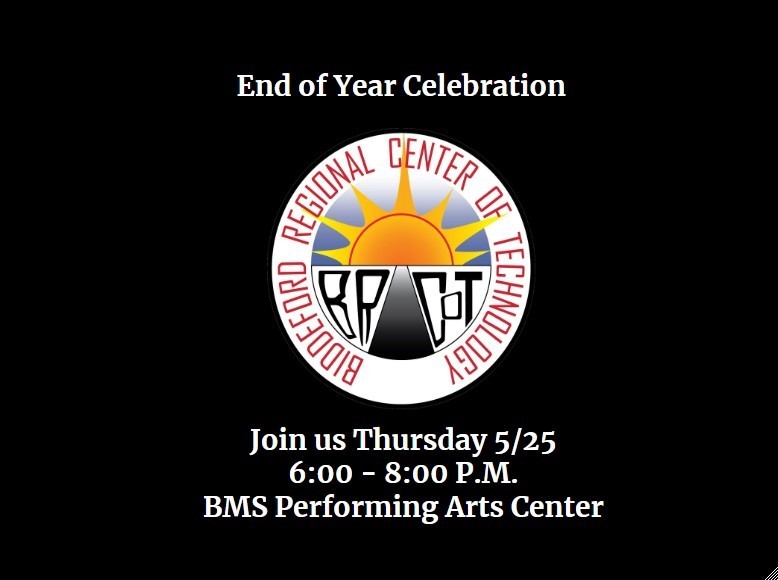 Congratulations to Pichithylen (Sreylen) Thor for being named BRCOT's student of the year! Sreylen, a computer technology student, was honored at a banquet Saturday. Every CTE school in Maine chooses one student for this honor. We are proud of you and your accomplishments!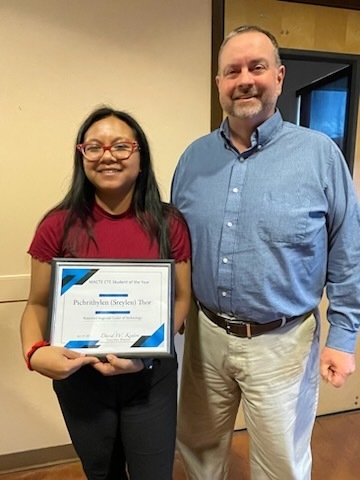 Tonight WCSH6 is featuring a story about Women in the trades featuring a couple of our COT students. Tune in to see Rebecca talk about Welding and Bri talk about her experience with our Auto Tech and Business programs. #womeninthetrades
Students in our Electrical. Plumbing, Residential Carpentry and welding Programs have been invited to Apply for AGC Maine's Maine Construction Academy. Students got information today. Parents are invited to COT Weds. from 4:00-7:30 to learn more about it! Please stop by!
BRCOT's Director, Paulette Bonneau, was part of the discussion about CTE in Maine today on Maine Calling. If you did not get a chance to hear it live, it is being rebroadcast tonight, 3/29, at 7:00 p.m. The episode will later be uploaded to Maine Public Radio as well. Tune in!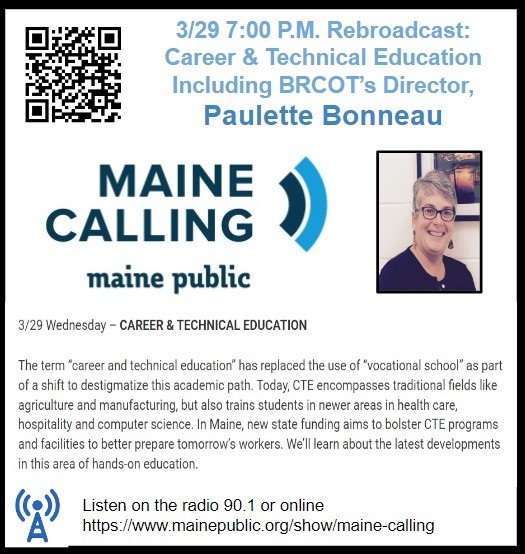 Two of COT's instructors were honored at the NTHS ceremony last night. Marc Cadorette, Precision Machining, and Mary Maxfield, Early Childhood, have both supported many students over the years. We are grateful for their service, skills, dedication and kindness. Thank you both!
Twenty-four COT students were inducted into the National Technical Honor Society last night. This recognition is awarded to students for leadership, scholarship, skills, honesty, citizenship, service and responsibility. Congratulations to all inductees!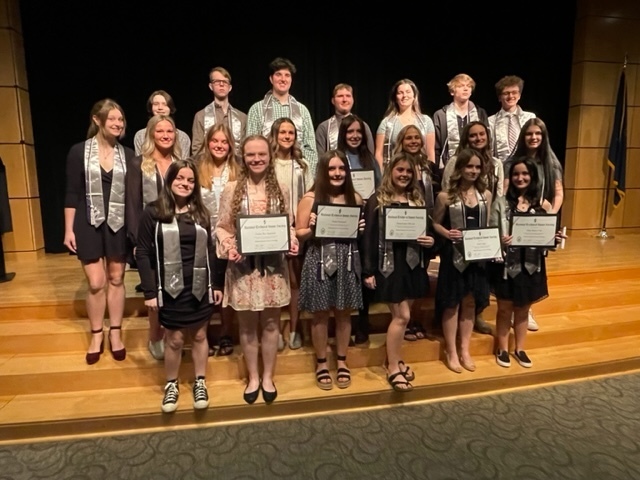 BRCOT is in the midst of its recruitment season. To learn more about our programming, our school and how/where to apply, visit the latest newsletter:
https://www.smore.com/37rae
Please see this important message about potential release of a sensitive video and helpful parental resources:
https://www.smore.com/zde6f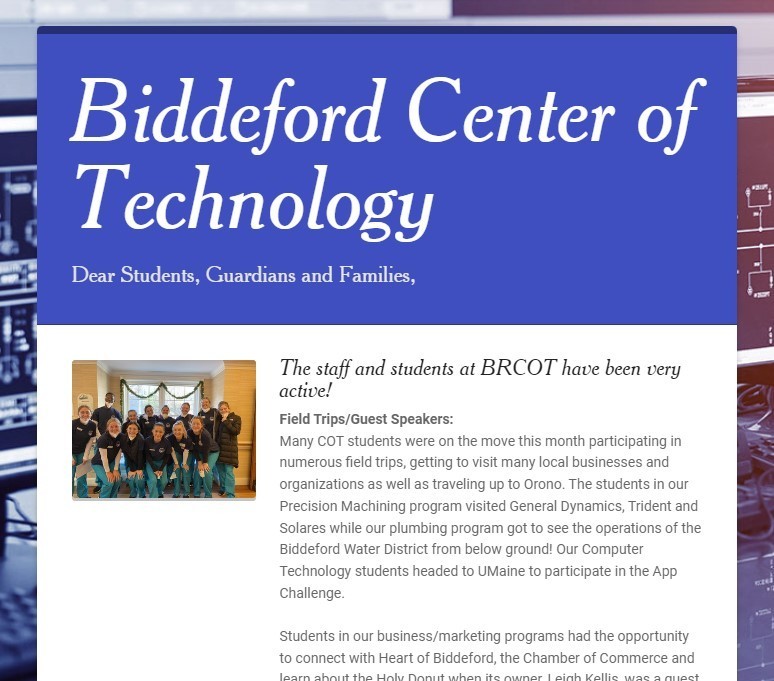 Our CNA students are starting their clinicals this week! Students reported being nervous but very excited for this opportunity.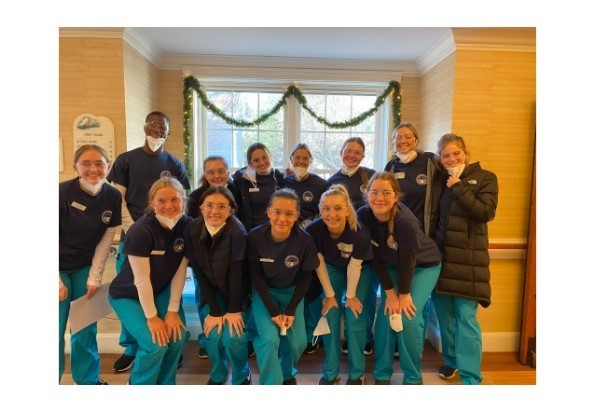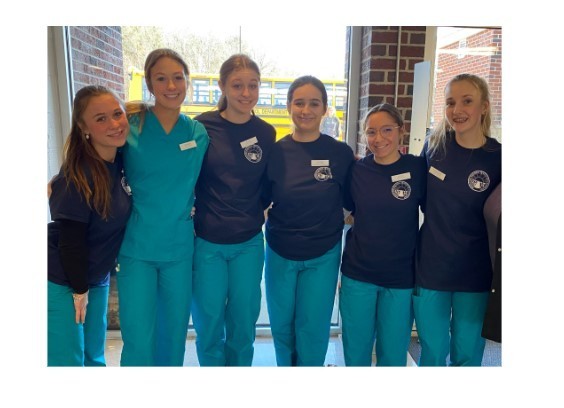 COT is thankful for our staff, students, and families! We are also grateful for the support from the communities we serve. Thank you to our community partners including local businesses, organizations and post secondary colleges/universities. Happy Thanksgiving!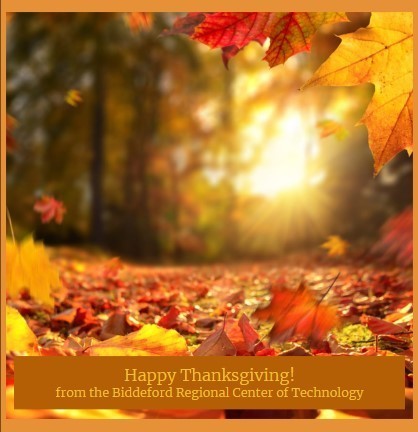 Students from Mr Laney's Computer Technology class at Biddeford Regional Center of Technology visited the University of Maine on Friday, November 18, 2022. While on Campus, they worked with staff from the Foster Center of Innovation to visit several sites. The first stop of the day was the VEMI Lab where students immersed themselves in virtual reality and learned how virtual reality is being used to create adaptive experiences and help humans better navigate the environment. The next stop was at the Advanced Structures & Composites Center to see the world's largest 3D printer and the Wind-Wave Oceaneering Lab. During lunch, the Foster Center worked with students to create, communicate, and commercialize new and innovative ideas. In the afternoon, students toured the brand new Ferland Engineering Education and Design Center. The last stop of the day was a lecture by a UMaine professor on adaptable electrical grid technology to efficiently deliver sustainable electricity to homes throughout the world.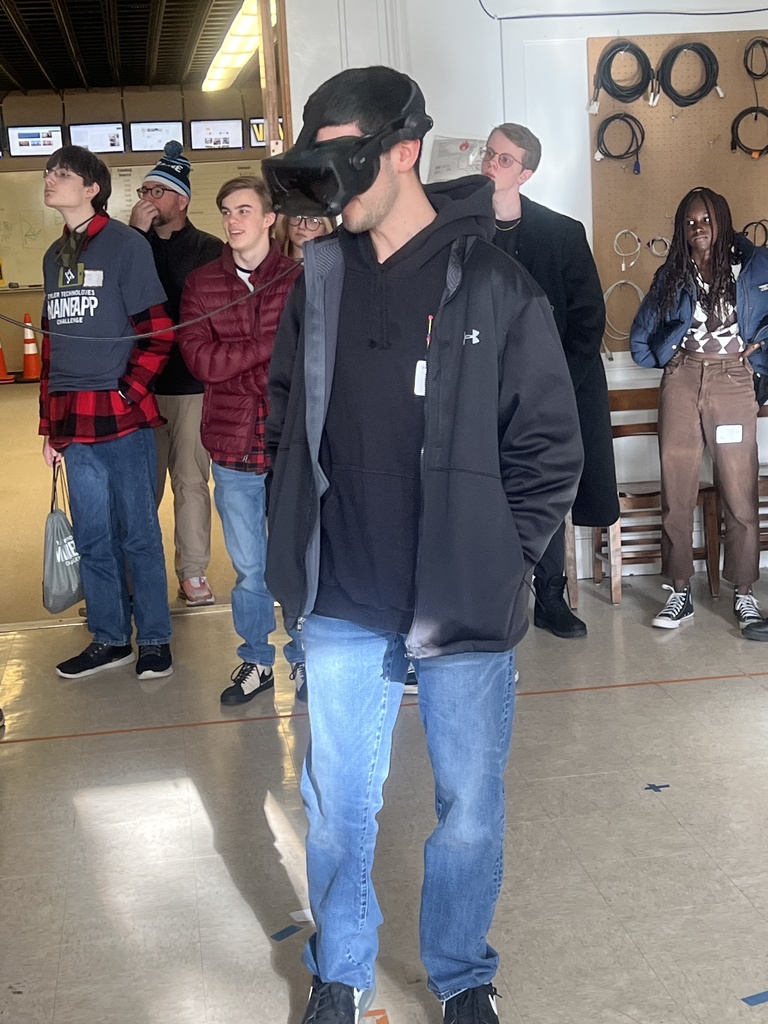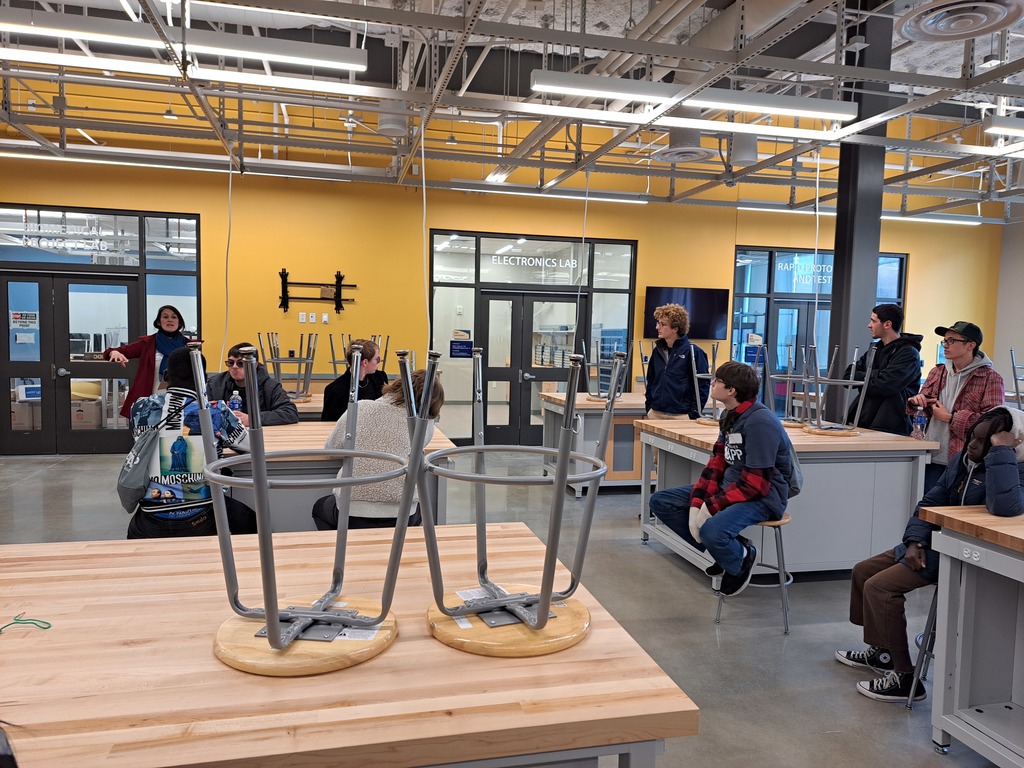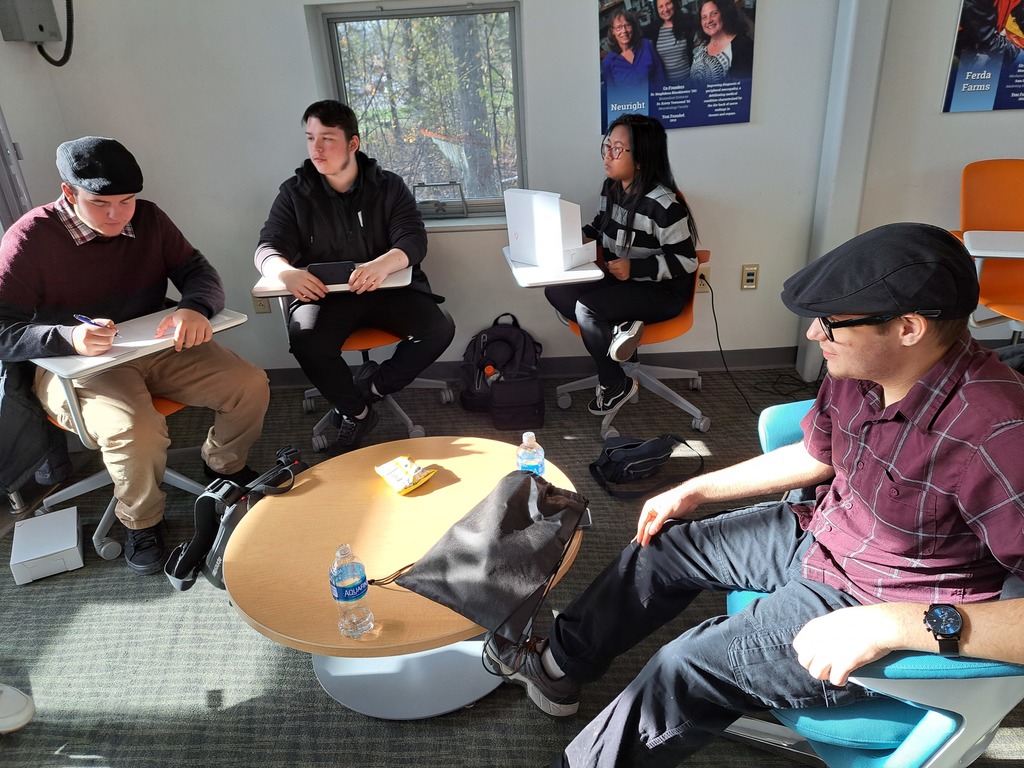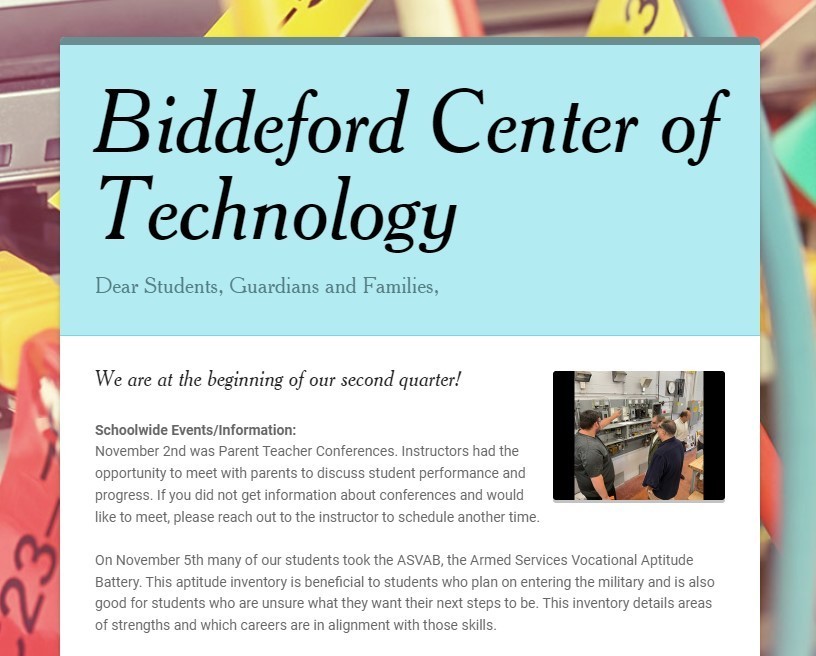 Check out BRCOT's most recent Newsletter to learn about what our students and staff have been doing this month. You can see the newsletter at the following link:
https://www.smore.com/s59gw
BRCOT's most recent newsletter is now available. Seniors & Parents, please note the FAFSA Help session that is happening this Thursday at BRCOT starting at 6:00. Each family in attendance will receive a $20 gas card. Newsletter is available here:
https://www.smore.com/gmu4a